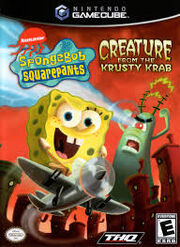 SpongeBob SquarePants: Creature From the Krusty Krab is a 2006 SpongeBob SquarePants 3-D Action-Platforming-Racing game developed by Blitz Games and WayForward technologies.
Plot synopsis
Gameplay
The player gets to play as three playable characters during the course of the game, SpongeBob SquarePants, Patrick Starfishman (Patrick Star as a superhero), and Sheldon J. Plankton, and must lead them through nine unique levels in a world of the interwoven dreams of the 3 characters. There are four different types of gameplay that are in the game, which are flying, rampaging; racing and platforming. During the flying parts the game sets obstacles one in front of another, and the player must maneuver past them. Most of the time, the game gives the player directions on which way to fly. On the Wii, the player uses the remote like an actual plane control stick. The most common case of this is when SpongeBob uses his plane to attack a super-sized Plankton. In rampage levels the player controls the giant Plankton and uses his special powers and moves to destroy everything in their path. The player's laser eye power is indicated by a bar on the right side of the screen, which refills after use. Racing gameplay is similar to most racing games; there is air and ground racing, and fuel must be collected in order to keep the player's vehicle running. The platforming gameplay is spread throughout the game, such as when Patrick Starfishman has to save Bikini Bottom from his evil twin, Dreaded Patrick, or when Plankton must escape from a huge live Krabby Patty.
Reception
The game was nominated for an Annie Award for best animated video game in 2006. It also won the award for favorite video game at the 2007 Kids' Choice Awards. The game received average reviews in addition to some more positive or negative ratings. Nintendo Power referred to the game as the "most ambitious and most successful SpongeBob game to date" in their December 2006 issue.
Several reviewers stated that the fictional world does not resemble Bikini Bottom or the cartoon itself, that the game does not "feel" like a SpongeBob SquarePants title.
Key points brought out in the above reviews include:
The ease of navigating through each level.
The play control is both "perfect" and "responsive".
And key flaws brought out in the reviews include:
Bad graphics.
Continuous racing and 2D levels.
Fun Facts
Community content is available under
CC-BY-SA
unless otherwise noted.