Character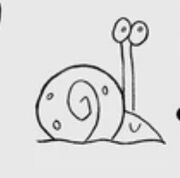 Doodle Gary
is a living doodle drawing of
Gary the Snail
that appears in the episode "
Doodle Dimension
."
Appearance
He is a crudely drawn version of Gary.
Role
Doodle Gary is created by the Magic Pencil used by SpongeBob. He is created alongside with Doodle Squidward and Doodle Mr. Krabs. They all turn against SpongeBob, however, when DoodleBob draws angry eyebrows and mustaches on them.