Character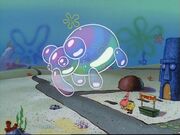 The Elephant Bubble is an elephant shaped bubble that is blown by SpongeBob in the episode "Bubblestand."
Appearance
The bubble is translucent and in the shape of an elephant.
History
In "Bubblestand", SpongeBob blows this bubble and
Patrick
mistakes it for a giraffe instead. The bubble pops in
Squidward's
house. When it popped, it made a loud elephant trunk sound and many bubbles came out.
Community content is available under
CC-BY-SA
unless otherwise noted.