Jelly Jumpin' Jumboree
is a
http://www.nick.com/
Nickelodeon
SpongeBob SquarePants
game.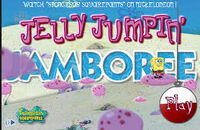 Gameplay
In this game, you have to jump on Jellyfishes in order to go up. Each level will increase in difficulty, by reducing the number of Jellyfishes.
There are also bubbles, in which you get about 15 points each if you land on them. They also help too.
You will have to start with 3 lives. As you progress, there will be chances to get lives. You will know when you see a bubble with a "+1" with a Sponge on the right.
There will also be power-up bubbles. Such as with the orange bubble. It makes you jump higher and 1500 points. There will also be a hazard, the purple bubble. In which it makes you go down. There will also be hooks in the game too. The number of hooks increase in every 1-2 levels.
See also
Community content is available under
CC-BY-SA
unless otherwise noted.