"Now it's time to bring it around town."

This article is in need of one or more better quality images. Please help SpongeBob Galaxy Wiki by uploading a better image or editing the current image.
Please remove this message when finished.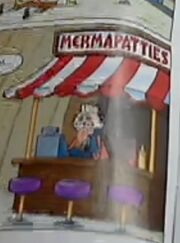 Mermapatties is a restaurant that appears in Bikini Bottom 2.
Appearance
It is a small wooden stand with three purple seats, and at the front is the counter with the cashier, where Barnacle Boy (Bikini Bottom 2) works. On top is the sign written in red.
Role
SpongeBob encounters the Bikini Bottom 2 versions of Barnacle Boy and Mermaid Man here.