Object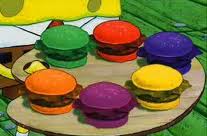 Pretty Patties are a type of painted Krabby Patty seen in the episode "Patty Hype." They originally came in 6 colors but quickly went up to 21 colors. It was very popular until it made all the fish that ate them have a rainbow color added to them on some part of their body after Mr. Krabs traded SpongeBob's successful business for the krusty krab. It had even became for popular then the Krusty Krab.
Colors
Green
Blue
Red
Orange
Purple
Yellow
Tan
Beige
Turquoise
Dark Green
Dark Brown
Dull-Blue Gray
Plaid
Yellow with Green spots
Pink
Glow in the Dark
Rainbow
Tartan
Green with purple and black stripes
Silver
Gold
Animal Print
Community content is available under
CC-BY-SA
unless otherwise noted.