We're Getting Mutants in the MCU - The Loop
Play Sound
Character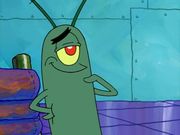 Sheldon J. Plankton, more commonly known as Plankton, is a planktonic copepod. He runs an unsuccessful restaurant called the Chum Bucket with his computer wife, Karen Plankton. Karen often gives him evil plans to steal the Krabby Patty Secret Formula from the Krusty Krab. Plankton always messes up these plans and gets defeated. Nonetheless, he takes all of the credit for Karen's ideas.
Plankton and Karen are a married couple, and Plankton has been known to call Karen his "computer wife." However, their relationship was not mentioned on the show until season three. Plankton was initially supposed to be a one-time minor character. However, his voice actor Doug Lawrence liked Plankton so much that he wrote many episode ideas about Plankton and Karen. They were promoted to main cast members in the 2004 movie's credits.
Information
Plankton is shown to be very evil mainly in the early episodes. He has only gotten the formula just a few times. Especially in the movie where he took over all of Bikini Bottom. His restaurant, the Chum Bucket rarely gets customers. He is the smallest character in the series along with Prawn. Plankton is married to a female computer named Karen Plankton. He also has a large family which are mainly just cousins. He is probably the most evil character in the show, besides Mermaid Man and Barnacle Boy's enemies.
Family
Karen Plankton (wife)

Gordon Plankton

(father)
Mama Plankton (mother)
Grandpa Plankton (paternal grandfather)

Lily Plankton

(paternal grandmother)

Chip Plankton

(son)
Fredrick (father-in-law)
EMILP (mother-in-law)
Silas Plankton (paternal uncle)
Seymour Plankton (paternal great-grandfather)
Basia Plankton (paternal great-grandmother)
Alvin (paternal great-uncle)
Trivia
Plankton, along with Karen, are the two main villains of the franchise.
He is voiced by Doug Lawrence, who also voiced Potty the Parrot since season 10 and various minor characters such as Larry the Lobster and the Realistic Fish Head.