Character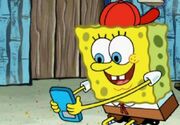 SpongeBob's grandson
is the future grandson of
SpongeBob
. He only appears in the episode "
The Great Patty Caper
."
Appearance
He looks exactly like SpongeBob, but wears a backwards red baseball cap and his brown pants don't have a belt.
Role in series
He appears at the end of the episode being told the story of the episodes events. He tells his grandfather SpongeBob to quit telling the story as he is busy playing a videogame.
Trivia
Due to this character, this shows that SpongeBob will eventually get married and have at least one child.